Bulk Scanning: Unlock The Power Hidden In Your Documents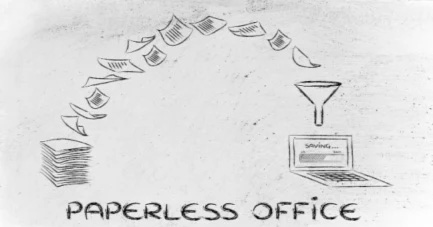 What Is Bulk Document Scanning?
Bulk document scanning is the process of converting a large amount of physical paper to digital images using a trained team and high-volume document scanners. The digital images are then either exported to a document management system (DMS), uploaded to a cloud-based server, or to an external hard drive where they can be easily searched for and retrieved.
At Shoreline, we have worked with hundreds of companies across several industries to convert their paper documents to electronic images. Over the span of years, we have learned that each industry has specific guidelines for maintaining records. Medical records, legal documents, tax information, and employee files each have specific retention laws. With a responsibility to maintain these documents, converting them to digital files will make them easier to access, and you will have peace of mind knowing they are safe and secure in the cloud.
Now, more than ever, bulk document scanning is needed. Due to the effects of COVID-19, more and more employees are working either remotely or in a hybrid work environment. Those still relying on paper documents are put in difficult situations when records need to be produced. Dealing with paper is not only slow and inefficient, but what happens when something is misplaced? Organizations can find themselves in challenging and costly situations when documents are misfiled, damaged, or destroyed before their retention date. Against this backdrop, consider the advantages of bulk document scanning.
What Are The Advantages Of Bulk Scanning?
1. Increased Access/Shareability
Through bulk document scanning, your business has the advantages of a paperless office. Time is no longer wasted searching through filing cabinets, making copies, and re-filing. With digital documents, you and your employees can simply access what they need and share instantly through email.
2. Security
Protecting sensitive information about your employees or customers should be a top priority of any business, especially in today's world. Papers can easily be misplaced, destroyed, or find themselves in the hands of someone with bad intentions. Regardless of the situation, you can ensure it will be protected by digitizing your important data.
3. Saves time & space
Have boxes in storage locations? Are your cabinets filled with important documents? Scan your documents and save on space. Have you added how much it takes to find a document stored in a warehouse? Or misplaced in your office? Invest your space and time in driving your business to excellence.
Shoreline's Bulk Document Scanning Process:
1. Free Consultation
A representative from Shoreline will meet with you in person to evaluate and discuss the project. You will be asked questions such as how the documents are currently stored and what type of documents they are. Then, we will assess the volume, discuss indexing criteria, and determine the condition of the paper.
2. Packing & Transportation & Unloading
If your files are not already in boxes, our team will come onsite and pack the records for transport. Each box is carefully accounted for and transported to our operations center in Ronkonkoma, New York. Once they reach our facility, each box is assigned a label with a barcode until they are ready to be scanned.
3. Document Preparation
Prior to beginning the document conversion process, Shoreline personnel will prepare each file for scanning by removing any fasteners or clips. In addition, all sticky notes and other papers contained within the folders or documents will be prepared "scan-ready" and scanned unless they are blank, in which case they will be removed and discarded.
4. Document Scanning
Our production document scanning operations center is equipped with leading-edge, high-speed equipment from Kodak and Canon, featuring Optimal Character Recognition (OCR) technology that allows you to search and retrieve instantly.
5. Quality Control
Once the paper is converted to digital, it is moved to the 'QC' stage. This is where we review every image to ensure quality. We remove any blank or unnecessary pages and re-scan any image that does not meet our standards.
6. Indexing
The indexing step is when we assign name(s) or number(s) to each set of digital images. For example, in a medical record, we often record (Last Name, First Name, (Date of Birth), and (Medical Record #). This is to ensure everything has a place and can be found as quickly as possible.
7. Import/Upload of Files
Once the images have been indexed, and QC'd, our IT department will work with you to deliver the electronic documents. This can be done in several ways, including uploading to our document management solution SCView. With SCView, you may search, retrieve, share, email, and print out of the system, all while knowing your data is protected. If you already have a DMS in place, we can upload the files directly to your system, otherwise to a Secure FTP site or an external hard drive.
8. Storage or Destruction
When the appropriate time comes, we offer certified document destruction to ensure the physical data is disposed of securely. We also provide secure document storage if you need to keep the physical paper.
Why Outsource Your Bulk Document Scanning Project To Shoreline?
Perhaps you considered that you could do the scanning yourself but think of the following questions: How much would you need to invest in acquiring the right equipment? How much time would you spend training employees to use the equipment? Do you have the space needed?
When you add all those factors, you'll realize that your money and time are better-spent outsourcing to a professional document scanning company. Now, you may say, why choose Shoreline? Here are a few reasons why:
1. Reliability
Shoreline is the leading document scanning company in Long Island, New York. As such, we have worked with a variety of customers meeting their specific needs. Whether it's a small company or a large organization, Shoreline has the capacity and ability to meet the demands of any project.
2. Expertise
Shoreline has over 20 years of experience providing document scanning services to multiple industries. Whether you have a small project (5-10 boxes) or a large one (50+ boxes), Shoreline combines industry-leading technology and a dedicated, knowledgeable staff to deliver the service that your company needs.
3. Dedicated
Shoreline understands the importance of security and compliance. Our compliance programs are best-in-class, and we continually train our personnel and test our systems to ensure the highest level of confidentiality and security. Shoreline prides itself on its ability to help companies reduce costs and improve efficiency by implementing effective strategies for their information.