How COVID-19 Accelerated the Closing of Medical Practices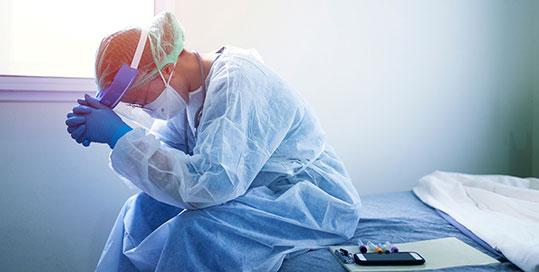 The Covid-19 Pandemic has taken its toll on everyone in 2020. Causing devastating damage, the virus does not discriminate against who it affects. While nearly every industry has struggled, the coronavirus has been incredibly damaging to the medical industry and small businesses. In November, a New York Times article described the challenges doctors are experiencing and the increase in the number of doctors retiring due to the pandemic. The stories of these doctors and their patients are saddening as this is never how they envisioned retiring.
At Shoreline, we have seen first-hand the effect Covid-19 has had on doctors, especially those with small practices. There has certainly been an increase in the number of doctors retiring for various reasons stemming from the pandemic. Whether they were unable or it was unsustainable to do telemedicine, had financial issues before the pandemic, or were planning on retiring soon but decided now was the time, many medical professionals have opted to close their doors. Regardless of the reasoning, the pandemic has greatly affected medical practices and patients.
The Effect on Doctor's and Their Patients
The NY Times article provides us with a quantitative look at how the pandemic is affecting medical practices. The report points to a survey conducted during the month of July 2020 by the Physicians Foundation. This nonprofit group surveyed an estimated number of 3,500 doctors. When asked about closing practices, the survey reflected that "About 8 percent of the doctors reported closing their offices in recent months, which the foundation estimated could equal some 16,000 practices. Another 4 percent said they planned to shutter within the next year." That is a total of 24,000 practices estimated to close by this time next year. Another shocking discovery the survey revealed is that nearly 50% of physicians surveyed do not believe the pandemic will be under control by June 1, 2021. These are just two of the key findings of the survey. For more detailed information and statistics, the full findings and results can be found here.
While telemedicine may be a viable solution for some practices, others could not adapt or were not getting enough volume of patients to keep doing it. Health risks also play a large role in the decision to close a practice. Older physicians worry about being exposed to the virus, and continuing to practice is not an option. Smaller medical practices also face financial challenges. While there has been some government aid, some smaller doctor offices cannot even afford masks. Each of these factors eventually trickles down to the doctor's patients.
With the increase in the number of practices closing, finding healthcare at this time can be a challenge. If the patient is able to find a new doctor, they must also go through the process of retrieving their record from their previous doctor. This can cause stress for the patient, the doctor, and the administrative staff. In some cases, the staff is not prepared to fulfill the records requests, leaving the patient without their record for an extended time. During these times, especially, patients need access to their records in a timely manner to receive proper care.
How We Can Help
Our team at Shoreline understands how much of a challenge it can be to close a medical practice. Over our 20 years in the records industry, we noticed a need for medical records custodians, and that need has never been greater than now. The number of physicians retiring is staggering, and many are unprepared to do so.
At Shoreline, we work with each physician to determine the volume, format, and storage duration for their medical charts. We take responsibility of the patient charts and provide patients with the opportunity to retrieve their charts in a fast and HIPAA-compliant manner. Thus, eliminating the stress of managing your patient charts once your practice is closed.
If you would like more detailed information about the process, please read our closing checklist and our FAQs.
What's Next?
No one truly knows what the next year or even a few months will hold for small businesses and the medical industry. Each day information about the virus is changing, and therefore we must adapt to what comes. Walking away and closing a business that you worked your entire life for is a devastating experience that has, unfortunately, become more common with the virus's spread. Our job at Shoreline is to provide assistance and support for these physicians and their patients. Choosing a medical records custodian like Shoreline puts you and your patients in the best possible position.